Our Graduates
---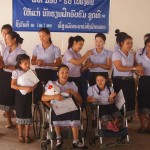 2013 is the 11th year of the LDWDC's training program to support women and families with disabilities, as well as poor women. We had 20 women from 5 provinces: Bokeo, Xayaboury, Vientiane, Khammouane, and Attapeu. The women came to the centre in June and stayed until February, completing a 9 month program. There were 16 graduates who completed the program and we supported 5 students with sewing machines, 500,000kip each for materials and transportation; Ms Bounchanh, Ms My, Ms Pisida, Ms Yuli and Ms Piear.

Funding for this program came from Tomako Company, Electric Power, Namtheun 2 Company and other companies in the Vientiane capital. After this, funds came from the Breadstick Foundation, Clear Path International, American, and Australian Volunteers. We have facilities for 25-35 students at the centre. Training, materials, food, board and healthcare are all provided for the students whilst at the centre. Currently we have 20 students from 4 provinces; Bokeo, Houaphan, Xayaboury and Bolikhamxay. We also have 3 children of disabled women staying here with their mothers. Below is the story of one of our graduates:
A recent findings from the Survey/Evaluation Report for the Lao Disabled Women's Development Centre highlighted an opportunity with recent funding. In August 2015, the LDWDC invited an outside consultant to join the project manager to write an evaluation report, studying the outcome for 20 students in 4 provinces, who attended the LDWDC between 2009 and 2014.  It took 16 days to do the evaluation, tracking down and interviewing past students.
The evaluation report showed that 65% of the LDWDC students had found employment or started their own business after graduation. These women are able to save money to support their family, and also assist in training other disabled women. It was also found that 30% of the past students had new skills from the LDWDC, in computers and paper handicraft, however they were unable to use these skills back in their villages.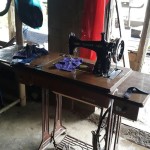 The report highlighted the importance of sewing training. At the village level sewing skills are sustainable as there is demand for this service. The market for village tailors is not only in their own village but also the surrounding area. This year the LDWDC will be placing more emphasis on sewing with a new curriculum and also has funds to purchase sewing machines for disabled women to kick start their businesses once back in the village.
Such evaluation reports enable the LDWDC to fine tune the training and also see the positive impact of the Centre on the everyday lives of disabled women once they return home.
Mrs Piakahm Thephoupha, Sewing Student graduate
Miss Piakham Thephoupha is 30 years old. She was born into a poor family in Samakhyxay district, Attapue province; her father past away when she was a child. Growing up, she lived together with her mum and brother, who also has a disability.Piakham became disabled when she was 6 years old. She slipped and fell down while she was running with her friends. Her family lived far from the school and so she was unable to study after the accident. Piakham earned a living as normal people did by farming and harvesting rice. She made herself some crutches to support her body. When she was about 25 years old, she got married. In June 2013, Piakham was selected to study sewing at the Lao Disabled Women`s Development Centre. She was selected because she is from a poor family, has a disability and has received no education or training. Now  she has graduated, her dream to be a tailor has come true and she has opened her own shop in her village.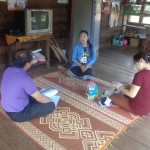 Ms Micksouda Sukhamounty (Pao) graduated from the Lao Disable Women's Center (LDWDC) in 2013. Ms Pao is 26 years old and comes from the Khommoun province.
Ms Pao was born into a very poor family and at age 3 months, she was very sick and had a very high fever. Her mother took her to the medical center and her leg started developing problems after been given an injection. Due to her mobility issues, she had to stay very close to her family and could not travel anywhere without their assistance. She was fully dependent on her parents for everything. She did not go to school and thus was without friends during her childhood.
Since she was not able to go to travel and go to school to study, she has always felt sad, dejected and lonely and was unable to find suitable employment to make a living.
Then in 2012, her brother heard about the LDWDC and how the center is giving people with disabilities vocational skills training in sewing, weaving and paper handicraft. Upon hearing about the LDWDC, she was very excited and proceeded to apply for a scholarship to attend sewing training at the LDWDC.
When she completed her training in 2013, the Center presented her with a sewing machine. She went back to her village in the province and started her own small sewing business. Her village is in a very remote area and it is very difficult to travel from the village to the biggest town nearby as the road becomes very muddy and subject to flooding during the raining season. She was fortunate to be the only person in the village to have sewing skills and therefore was able to do sewing for everybody in the village. This has become a good money earner as she was able to make about 800,000 kip per month. She was able to save some of her income to buy a bigger sewing machine as the bigger machine has many more functionality.
The time at the LDWDC has drastically changed her life. Before learning about the Center, Ms Pao was always feeling very dejected and depressed. But after attending the LDWDC and gaining vocational training skills and Lao Language skill, she was able to make a modest living. She is able to buy things she likes and even give money to her family. She now sees herself as a valued member of her community.
Ms Pao made a lot of friends at the Center and she feels more confident. Before, she was without friends and a social network but now she has a lot of friends. She is now very happy and is aspiring to improve herself. She is looking towards learning more advance sewing skills so that she can make trousers and women skirts so that she could earn more money.
She is very thankful to the Centre as it has transformed her world around from being a very dependent person with disability to being a self-supporting person with disability.