Donate to the LDWDC
---
Give disabled women in Laos a brighter future with a donation to the LDWDC Donations to the LDWDC are pooled and distributed as needed to cover the costs of the Centre's vocational training program, advocacy work, and support our social enterprise which provides employment to disabled women. The distribution of funds between activities depends on which activities are currently funded by grants. Every cent donated is used to benefit disabled women in Laos.

Your donation can provide:

$20 – 1 month of vocational training materials
This provides consumable items like cotton, fabric and glue as well as supplying each student with the necessary equipment for their chosen vocation. At the end of their training students can take this equipment home with them and use it to start their own small business, enabling them to generate an independent income.

$50 – Supports the employment of a disabled woman for 1 month
After graduation many of our students are provided with employment making handicrafts for our social enterprise. We provide these women with a sheltered workplace and each month they receive food, accommodation and a small salary. A sheltered workplace has higher costs than a regular business and we need support to ensure we can continue to provide employment to women who might not be equipped to work in regular workplaces. We hope that eventually the handicraft business will be able to support itself.

$100 – Full scholarship for 1 month of vocational training
This will cover tuition fees and materials for intensive training in either sewing, weaving or handicraft production and electives such as English, computing and small business management as well as providing the student with accommodation, food, drinking water, toiletries, healthcare and a little bit of pocket money.

All donations are greatly appreciated. To donate please go to  our page on Ammado, and select Donate.  Thank you.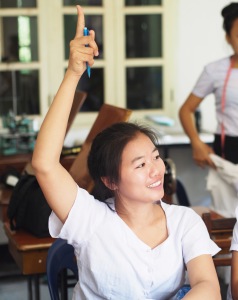 © Copyright Lao Disabled Womens Development Center - Designed by Pexeto